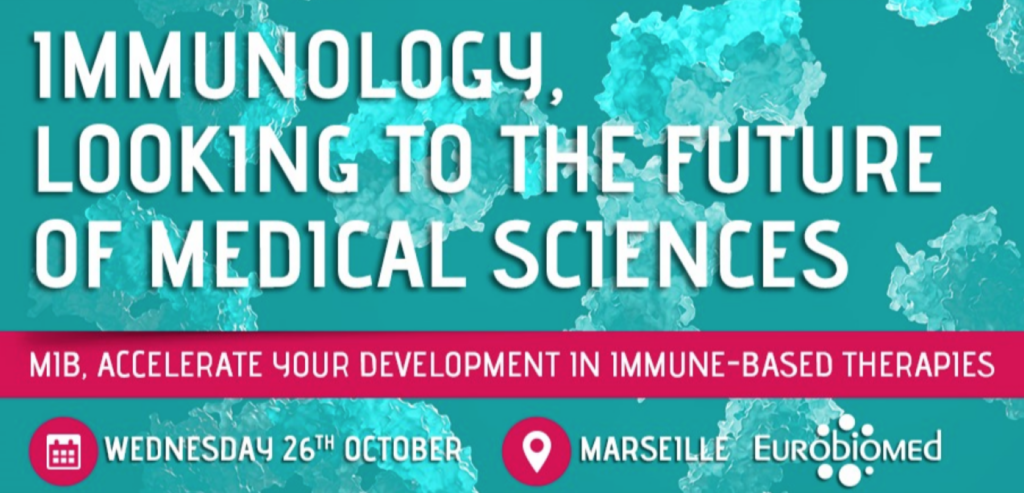 On October 19th 2023, the 2nd meeting on Immunology will be held in Marseille, organized by Eurobiomed health cluster and supported by Canceropôle Provence-Alpes-Côte d'Azur.
It will take place in a very peculiar context after the recent announcement, by French President Emmanuel MACRON, of the selection of the biocluster financed at 97 M€ within the framework of France 2030 health plan. The day will be an opportunity to meet major players in the field of immunology: researchers, clinicians, start-ups, and manufacturers at the forefront of the development of tomorrow's immunotherapies. New targets, innovative technologies and ongoing clinical trials are some of the topics that we'll discuss during the sessions. You will also discover a world-class ecosystem at the cutting edge of innovation in Immunology.
*𝗠𝗜𝗕, Marseille Immunology Biocluster, aims at developing in Marseille an international biocluster for immunology, on a Bostonian model, by bringing together leading players (research & education, hospitals, CRO and biopharmaceutical companies) to accelerate the development of new immunotherapies against incurable or severely disabling pathologies: chronic inflammatory diseases, auto -immune diseases, cancers and infectious diseases. Local and national stakeholders are involved in the project: Aix-Marseille University, Inserm and CNRS, AP-HM and IPC, Brest Hospital, SATT Sud-Est, Eurobiomed, biotech companies and CROs, two global pharmaceutical companies, as well as the Aix-Marseille-Provence Metropolis, the Bouches-du-Rhône Department and the Provence-Alpes-Côte-d'Azur Region, in order to position the region at the forefront of global competition in immunology therapies.