A scientific congress taking place at the Auditorium de l'Agora, Domaine du Haut-Carré – Talence.
From October 16th to 18th, 2023
The 'Pancreatic Cancer symposium 2023' will be the third edition of an international meeting that brings together researchers and clinician-scientists at the forefront of knowledge of pancreatic cancer. It is organized by a voluntary group of French researchers (AFRCP). Considering recent progress, this event will focus on current and future themes in the field. In particular, the themes of the following sessions, including interdisciplinarity potentially leading to new advances, will be proposed to the international research community: identification and targeting of new tumor vulnerabilities, exploration of the desmoplastic reaction and the tumor microenvironment, new modalities and technologies for pancreatic cancer research, knowledge and understanding of early and metastatic disease.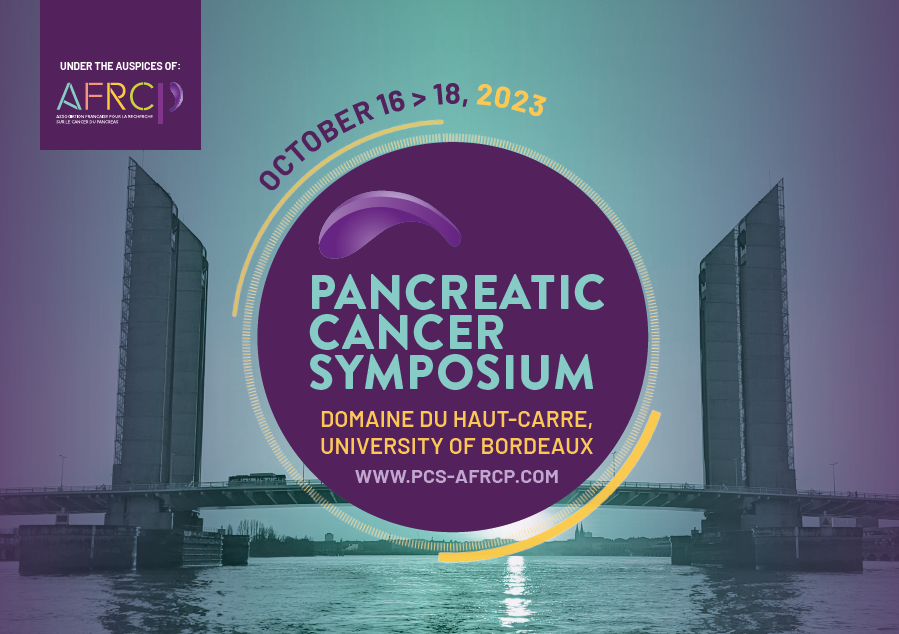 Deadline for abstracts submission: Friday, September 6, 2023
Abstracts should be prepared as following:
An English language abstract must be in the terminology familiar to specialists.
The text should be succinct and substantive. Beside presenter's full names and affiliations, the abstract must include purpose, methods, results, conclusion and significance.
Submit a document no longer than 500 words. After consideration and selection by the scientific board, you will be notified if your abstract is considered for poster session or for both poster session and oral communication.
Please select the session category in which you consider your abstract would be the most relevant. Nevertheless, scientific board retains the right to decide which session is the most appropriate.
17/10/2023
Session II – Identification and targeting of new tumor vulnerabilities (oral presentation)
Session III – Exploration of the primary and secondary tumor microenvironment (oral presentation)
18/10/2023
Session VI – New Modalities and Technologies for Pancreatic Cancer Research (oral presentation)
Session V – PDAC prevention and early disease (oral presentation)